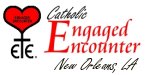 | | | |
| --- | --- | --- |
| | | Excerpts from Letters |

"We are so glad we chose this program as opposed to the one day offering, and will recommend this weekend to future engaged couples."

"Even though we are very close, somehow we managed to grow even closer through the discussions and prayer."

"This weekend helped us to talk about some of the more difficult issues in a marriage."

"This weekend gave us a wonderful opportunity to get closer to each other and God."

"We were very apprehensive about having to do this, but after this weekend, we wouldn't have changed a thing."

"This weekend has meant a lot to me. I found it helped bring me close to my Catholic religion again. For a while I was not attending church, or even taking time to pray. I think that will change now. I believe it will help me and my relationship to become better.

"It gave us a great opportunity to be with each other, away from all the "to-do" lists."

"We have learned a lot about our feelings for each other and the ways to strengthen our relationship through faith."

"This weekend has made us realize how important God is in a marriage."

"Not knowing a lot about Catholicism, this weekend has given me a chance to see what this religion teaches and I have noticed how similar it is to our faith."

"This weekend has given us a foundation to build our life on, and if we follow what we have been taught, then we will have a happy healthy marriage."

"It has been an absolutely enjoyable weekend. It has taught me so much about my relationship, our covenant, and myself with God through the marriage sacrament. Father Rodney was just the best, and all the team leaders were magnificent. Thanks a million to you all and God bless."

"This weekend meant to me a beginning of a beautiful new relationship with my fiancÚ and God - the burying of all the doubts and insecurities, and the light to follow when things get dark and scary."

"It was an enlightening experience for both of us. It opened us too some topics we had never talked about before.

"At first I was very hesitant to come here, not knowing what to expect, this has been the most worthwhile weekend ever!"

"Each presentation was timely and needed. Our presenters were wonderful and inspiring."

"This weekend has given us a great opportunity to focus on our relationship with no other outside distractions. It has opened our hearts and minds to the sacrament of marriage, and this step should not be taken lightly."

"This weekend was a wonderful opportunity for my fiancÚ and I to spend some quality time together exploring our relationship and the sacrament of marriage. By spending this time together, we have grown closer with God."